Introduction to Agility Classes
When:
January 9, 2019 @ 8:00 am – February 13, 2019 @ 7:00 pm
2019-01-09T08:00:00-05:00
2019-02-13T19:00:00-05:00
Where:
Bellwether Harbor
7645 W 48th St
Fremont, MI 49412
USA

Introduction to Agility Classes will be held at Bellwether Harbor. Classes will be instructed by Kris Larsen, and will start on Wednesday, January 9th and go thru February 13th. This class is independent of Bellwether and MLOTC.
The class will be doing both foundation work and learning the equipment. There are 8 spots available and the cost of this class $100. To sign up for the class, contact Kris Larsen – KLarsen@medilodgeattheshore.com .
Kris Larsen has been teaching and competing in agility for the past 15 years. She has been to many agility seminars and workshops over the years. Kris believes dogs and handlers should both have fun while learning in a style that is structured, and helps the dog learn.
Kris has had dogs that were in the top 10 AKC in agility collies both in 2007 and 2008. Currently, she competes with 6 year old smooth collie sisters Joy Ride and Jonne, and 9 year old Aussie named Cody. She has been involved in obedience, rally, dock jumping, disc dog, barn hunt, canicross, mushing, dryland dog powered sports and skijoring. Kris is also a Canine Good Citizen Evaluator for the AKC and a tester/observer for the Alliance of Therapy Dogs.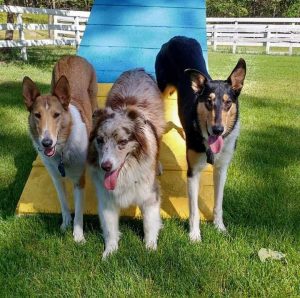 New comments are closed.