Executive Director Search
In March 2023, Bellwether Harbor began the transition from being a program of Bellwether Foundation to a public charity and is currently finalizing its new 501(c)3 status.  Read more here: www.bellwetherharbor.org/press-release/
Bellwether Harbor Animal Shelter is now seeking to hire a new Executive Director to lead the organization, including daily operations, fundraising, and strategic planning.  The mission of the Shelter is: "Helping animals and people make a connection through education, training, and adoption."
The ideal candidate will be committed to the health and well-being of the abandoned, abused, and neglected dogs and cats that come into the Shelter's care.  Interested candidates can find more information below.
The first round of screening applications will take place the week of October 16, 2023 but the posting will remain open until the position is filled.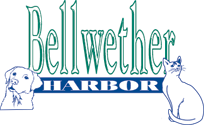 Executive Director
Position Title: Executive Director
Reporting To: Board of Directors
Mission
Bellwether Harbor Animal Shelter's mission statement is: Helping animals and people make a connection through education, training, and adoption.
We are dedicated to the health and well-being of the abandoned, abused, and neglected dogs and cats coming into our shelter, preparing them for their adoption with people looking for forever companionship. We do this through medical care, socialization, training, and sometimes rehabilitation.
We work with people looking to adopt our animals by helping them to find the dog or cat that is the best fit for their lifestyle. We do this through an interview process, multiple visits, education, and training.
Bellwether Harbor's ultimate goal is to encourage and support the human animal bond.
Background
Bellwether Harbor, located in Fremont, MI, has been sheltering homeless animals since 2002. We primarily take in dogs from area shelters to provide necessary relief for those shelters housing dogs needing extra medical care, and behavior rehabilitation. We take in homeless cats from the community, as well as some owned cats needing to be re-homed.
Programs
Pet Pals – An in shelter educational, hands-on program for children 7-14 years of age. The children learn about bite prevention, dog training, health, and grooming.
Pet Pals Goes to School – We bring our bite prevention program to area schools for 3rd grade aged children.
Pet Pals on the Road – We bring our bite prevention program to summer day camps for children and community events.
Dog Training for our Shelter Dogs – Every dog in our care is assigned to a staff member to help them become well-mannered family members.
Dog Training for the Public – We offer group classes and private sessions for people looking for help with training their dogs for basic manners at the beginner classes, intermediate, and advanced training for owners wanting to build on the basic skills of their dogs. We help owners with some behavior issues with their dogs as well.
Senior for Senior Foster – We provide a comfortable and nurturing atmosphere for our senior cats with senior citizens wanting a feline companion to enjoy the unconditional love that a senior cat can offer. We provide medical care, and all supplies the cat will need. Participants in the program provide care, companionship, and attention.
Volunteer Program – Our volunteer program offers a wide range of opportunities. Our volunteers make a huge impact on the lives of our shelter animals with dog walking and socializing, cat socializing, kitten fostering, dog bathing/grooming, shelter dog training, and animal enrichment. They also help with education, kennel cleaning, laundry, fundraising and events.
The Opportunity
As the leader of Bellwether Harbor Animal Shelter, the Executive Director will be responsible for guiding the administration, annual operating budget, programming, and strategic planning. The Executive Director will work in concert with an experienced staff and Board of Directors.
The Executive Director will be the face of the organization. Serving as the primary spokesperson, and cultivator of relationships with donors, community leaders, the veterinary community, animal welfare advocates, government officials, media, and volunteers. The Executive Director will engage with other key stakeholders to promote animal welfare and the mission of Bellwether Harbor Animal Shelter.
The Ideal Candidate
Is an experienced, compassionate, and collaborative leader with a commitment to the mission of Bellwether Harbor Animal Shelter.

Has achieved success in raising philanthropic support and working with a Board of Directors.

Has demonstrated the ability to build, engage and leverage strategic partnerships.

Has sound fiscal, business management, and human resources skills.

Is experienced in understanding financial statements for planning, monitoring, and evaluation of organizational efficiency and effectiveness.

Is committed to ensuring an organizational culture of inclusivity, collaboration, respect, and accountability.

Has exceptional interpersonal and communication skills, strong personal integrity, and an ability to build effective relationships at all levels.

Resides within 30 minutes of the Shelter.
Required Education and Experience
Five to 10 years recent continuous experience in a nonprofit leadership role.

Experience in animal shelter management.

Bachelor's degree from a four-year college/university.

Proven fundraising experience and results.
The Position: Executive Director
The primary responsibility of the Executive Director is leading Bellwether Harbor Animal Shelter's day-to-day activities and operations in collaboration with the Board of Directors. The Executive Director ensures that Bellwether Harbor is fiscally and administratively sound while creating and maintaining a strategic plan. This individual will uphold efficient and effective internal and external communications, fundraising, and systems. This individual is the primary spokesperson for the organization and must display the interpersonal skills necessary to work with highly committed and compassionate staff, volunteers, and supporters. The Executive Director is also responsible for developing and maintaining a culture that motivates, develops, and supports staff, and attracts top talent. This individual works closely with the Chairperson of the Board and keeps the Board of Directors informed of any important events and decisions.
Leadership & Management
The Executive Director, reporting to the Board of Directors, is responsible for the strategic operation of the organization, including developing and executing its strategic plan, policies and procedures, fiscal management, revenue growth, philanthropic outreach, fundraising, and all elements that support and maintain program delivery. The Executive Director will be committed to nurturing, mentoring, and motivating both paid staff and volunteers.
The Executive Director will:
Continuously strive to improve the environment for staff and volunteers and build a culture of inclusivity, collaboration, respect, accountability, and program excellence.

Develop training opportunities for professional and personal development for staff at all levels.

Ensure effective internal communication to ensure staff and volunteers are well informed of decisions that affect them and the organization.

Promote effective cross-departmental communication and collaboration.
There are 11 total staff, with 5 direct reports to the Executive Director:
Animal Adoption Coordinator

Animal Care Coordinator

Marketing and Promotions Coordinator

Administrative Assistant and Bookkeeper

Facilities and Grounds Maintenance Manager
Board Relations
A collaborative and productive working relationship with the Board of Directors is critical to the success of the organization.
The Executive Director will:
Work closely with the Board to establish and guide the strategic vision for Bellwether Harbor Animal Shelter.

Ensure that relevant issues are raised and addressed by the Board in a timely and organized fashion.

Keep the Board routinely advised of the activities and the financial position of the organization.

Make recommendations to the Board on operating policy, future directions, programs, fundraising activities, and outreach endeavors.

Engage the Board in Bellwether Harbor's programs and reinforce the importance of their financial support and participation.

Work with the Board's Nominating Committee to ensure that the Board is diversified and is of the highest possible quality and committed to the welfare of the animals.

Works closely with all standing and ad hoc committees established by the Board.
Fundraising
The Executive Director, considered the lead fundraiser for Bellwether Harbor Animal Shelter, is ultimately responsible for its fundraising success.
The Executive Director will:
Work to identify and cultivate relationships with high priority donors and prospects.

Actively solicit major gifts in collaboration with the Board of Directors.

Will ensure that a sound development strategy is in place to raise money among individuals, foundations, and corporations.

Will develop and implement a plan to raise ongoing operational support.
Advocacy & External Relations
The Executive Director serves as the face and voice of Bellwether Harbor Animal Shelter, as well as the leading advocate for the organization and its mission.
The Executive Director will be responsible for:
Serving as an articulate and effective spokesperson for the organization.

Building positive relationships with a diverse group of stakeholders, including the nonprofit and business communities, and the media.

Advocating for Bellwether Harbor, its mission, and programs to local and surrounding communities.

Making effective and professional oral presentations to the public concerning the programs and needs of the organization.
Salary & Benefits
Starting at $55,000 annually.

Paid time off and holidays.

A cell phone for business use.
Procedure for Applications and Inquiries
Interested candidates should submit a cover letter and resume, no more than four pages, in one PDF to Barb Geno at barbarageno@gmail.com.