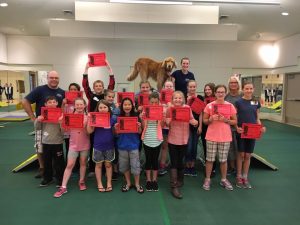 Bellwether Harbor is proud to join Bite Prevention Week from April 9th to April 15th, 2023 to raise awareness about the importance of preventing dog bites. According to the American Veterinary Medical Association, each year, more than 4.5 million people are bitten by dogs in the United States. Since 2006, Bellwether Harbor has been committed to teaching children how to safely interact with dogs.
Part of this commitment includes the Pet Pals program. Funded by a generous grant from The Gerber Foundation, this one of a kind program helps teach school-aged children in Newaygo County how to approach dogs. The Pet Pals program has helped thousands of children learn the correct way to interact with dogs. In the past several years Newaygo County has seen a reduction in the number of bites from stray animals.
"The Pet Pals program is a hands-on, humane educational presentation. We work to teach children how to be safe around strays and to enrich their bond with their own animals." said Carmen Froehle, Bellwether Harbor's Pet Pals Coordinator.
Every 3rd week of June and August, we hold a Pet Pals session here at the shelter, for kids ages 8-14 years old. Call us at Bellwether Harbor to find out how to sign up your youngster for this awesome learning experience! 231-924-9230
We encourage everyone to participate in Bite Prevention Week and to help spread the word about responsible dog ownership. Together, we can help reduce the number of dog bites and keep our communities safe.
These websites share other stats and tips to help you understand more and stay safe!
www.avma.org/events/national-dog-bite-prevention-week