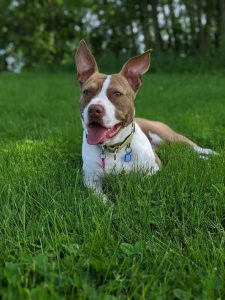 Clyde arrived at Bellwether Harbor in the spring of 2020. A shy and fearful dog, Clyde was transferred from another shelter to give him a better chance of adoption. Thanks to the hard work of the staff at Bellwether, Clyde came out of his shell more and more every day. Though he never completely recovered from his past it was clear that he was happy to be with us.
After several months in the shelter Clyde was adopted into a loving, wonderful family with people and animals that Clyde adored. It couldn't have been a better fit.
Several days after adoption while Clyde lounged in the yard with his family he was startled by something and slipped away from his owner. Despite everyone's best efforts he disappeared into the surrounding woods. He has not been located. 
Clyde's story is a heartbreaking one for everyone involved and it pushed us to find a solution to prevent incidents like this from happening in the future.
Bellwether Harbor has partnered with Fi Rescue Team to create Clyde's Collars, a program that supplies Fi GPS collars to adopters of shy and fearful dogs, or dogs at higher risk of escaping.
When we receive and assess new dogs we will determine, during quarantine, whether the animal is a candidate for the program. Upon identifying the dogs, Bellwether Harbor will contact Fi with the required collar size and color. Fi provides the GPS collar to Bellwether Harbor free of charge (retail $149) and Bellwether Harbor purchases a Rescue Kit, which is a one year GPS subscription in the form of a gift card ($99). While the dog is in the shelter Fi will cover the cost of the GPS subscription. When the dog is adopted the collar goes with them and the gift card will be activated under the adopters account.
Fi GPS collars were chosen for their superior battery life and range.
GPS and Cellular signal conditions in the wild are always changing. The Fi Collar is "smart" and is able to detect bad signal conditions to save battery. If your dog ever escapes, a few extra days of battery life can be the difference between prompt, safe recovery and an endless, stressful search for your companion.

Battery life is determined by the mode the collar is in

IN HOME MODE: Up to 3 months

WALK OUTSIDE HOME: Up to 2 months

ACTIVE DOGS: Up to 3 weeks

LOST DOG MODE: Up to 2 days

Fi has a built in LED light that can be customized to your pup's favorite color for added visibility in low light situations.

Fi uses three constellations of satellites to maximize the tracking speed and accuracy of the Fi Collar. GPS accuracy can get as accurate as 7ft radius in open sky.

Fi is the first tracking collar to use the LTE-M cellular network to communicate GPS information. LTE-M is a new technology for low power, long distances communications. LTE-M signal reached about 30% farther than 3G/4G/5G/LTE networks.

The most important factor in a dog's recovery is the speed at which you are notified of the escape. Fi uses proprietary algorithms to detect when your dog escapes from your backyard. It is the fastest, most accurate way to be notified when your dog escapes and to find your dog after an escape.

IP68 Waterproof Rating- the Fi was tested for 30 min complete immersion at 1.5m deep in water as well as spray salt water resistance. So your dog can have a blast and you don't worry about a thing.

Fi's Lost Dog Mode reunites you with your pup quicker than ever by updating their location in real-time and flashing the LED light in red to make your dog more visible.

Set up safe zones like "HOME" or "VET" so you always know where your dog is.

Track your dog's location from the Fi App.
For individuals interested in a Fi GPS Collar but not adopting from Bellwether Harbor, we have a unique discount code for them. For every 2 collars purchased using this unique code Fi will donate a Rescue Kit. Use code: BELLWETHER25

For individuals adopting a dog from Bellwether Harbor that has not been selected for the program, we will order their collar and rescue kit for the cost of the Rescue Kit ($99).